Secret Cinema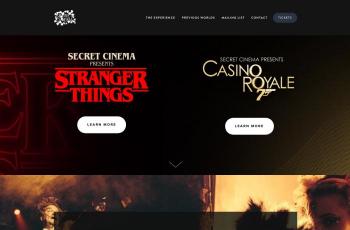 Screenshot of Secret Cinema website www.secretcinema.org
Secret-Cinema, previously known as Cinema-Obscure, is a ratio based movie tracker that specializes in more obscure content, including silent films, classics, arthouse, cult, etc. It falls in the same category as Karagarga and Cinemaggedon as it focuses on non-mainstream content.
While its primary focus is on movies, the site also offers music (OST, Radio) and a small selection of ebooks.
Ratio is not very difficult to maintain if you jump early on new torrents. The PotM (Pills of the Month) selection or "Secret Pharmacy" is a category of free-leech torrents where all downloads are automatically refunded.
The tracker is forum-based, like Karagarga and others.
All in all, the tracker differs substantially from other similar trackers, in the sense that it's a smaller active community that on other trackers, where members are generally friendlier and oriented towards maintaining a healthy society of cinephiles, with less politics and egocentric attitudes and more nurture for genuine interest towards quality filmmaking.
Because maintaining the ratio is not as easy as on other trackers (particularly if you're not from a high-speed internet country like Romania), members are actively encouraged to participate to the community with quality uploads which need to be seeded for a longer time than on other trackers, creating this way a healthy database of arthouse films which can still be found years after similar torrents on other trackers have vanished.