KaraGarga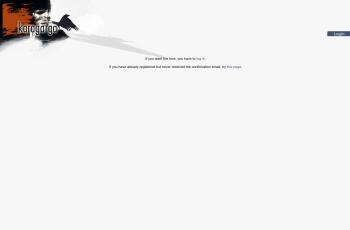 Screenshot of KaraGarga website karagarga.in
Karagarga (KG) is a members only torrent tracker for old/classic and rare movies. Uploading of modern Hollywood / Bollywood pictures or mainstream blockbusters is not allowed.
Not just another torrent tracker for movies, Karagarga's manifesto clearly states that they are an 'exclusive private filesharing community focused on creating a comprehensive library of Arthouse, Cult, Classic, Experimental and rare movies from all over the world'. Apart from films, Karagarga users find a remarkable collection of e-books, audiobooks and music.
At KaraGarga they strive for all movie torrents to be encoded in the best quality possible while allowing for the highest level of playback compatibility. A dedicated community of people is working on creating custom subtitles for movies.
Unfortunately, this tracker is not among the one in which you easily survive, and this is the largest and the only problem of many new members. Also, freeleech is very rarely present, the split archives forbiden, but a separate video files still allowed, so the beginning on the Karagargia is additional more difficult.
Filtering by the amount of leech despite forbiden split archives does not guarantee safe up traffic, but the big advantage of tracker is that even the newest members are allowed setting of requests and upload on their own (which you can advertise in the offer section), so if you have anything in accordiance with the upload rules and follow regularly request section, you'll be able to eventually create a good buffer.
A special feature is the MOM or Masters of the Month – each month, members of tracker in coordination with the staff select the physical person (author), genre or era of our past that will get the status of Master of the Month, and result in bonus to be awarded to members involved in MOM activities.
Torrent list, as on each superior tracker, allows sorting by all categories and items (including the year of production, genre and country of origin), and for those who would like to know the opinion of members about the movie on the list that have not yet watched, will be able to do that through the "thumbs up / thumbs down" average grade.